By Elena Gkagkani 
Data can be deployed across the whole energy value chain, regardless of the size of the asset. From large utility scale sites to residential solar and storage, leveraging the power of data drastically cuts costs, enhances the useful life of the asset and saves valuable time to the owner and managing team.
Currently information flow is fractured and involves multiple stakeholders, exchange of endless spreadsheets and one-way, data deprived reporting processes. The main problem is the high volume of low quality, unvalidated data; distributed through various channels, their value is not unfolded, and they are perceived as an additional responsibility, instead of a valuable tool in the hands of O&Ms, Asset Managers and local councils.
Data analysis is a powerful means to discover business insights and information, which enables intelligent decision making. It is crucial for any organisation to explore and adapt to the ever-changing technological trends in order to maximise the performance of the company's assets and ensure investor's returns.
4 applications that lead this change
Smart Grid
Smart meters and sensors for real-time data capturing, coupled with thorough analysis, validation and homogenization of big data, could revolutionise the power grid sector.
Introducing a reliable grid, responsive to power outages,
Matching supply and demand,
Implementing smart storage solutions to support generation from 100% renewable energy sources and
Enabling dynamic power pricing
These are only some of the areas where data flow will drastically reduce costs and automate time consuming processes.
According to projections by Statista (2019), the Market Value of smart grids will rocket worldwide during the next 5 years, growing from 20 billion USD in 2018 to over 60 billion USD in 2023.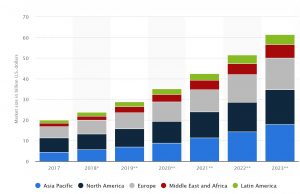 Market value of smart grids worldwide from 2017 to 2023, by region
(in billion U.S. dollars)
Increased efficiency
By leveraging the power of data, manufacturers can detect operational inefficiencies and power leakages. Using indexes and benchmarking tools that allow for documentation of numerous equipment failures, maintenance teams having access to these databases can detect faulty components and resolve issues faster than before. Regarding renewable energy assets like solar PV and wind turbines, closely monitoring performance and down-time allows for predictive, instead of responsive maintenance and consequently an increase of the asset yield.
Added transparency
With data in the centre of operations, either through a smartphone app for residential energy users, or through data-driven reporting for large scale projects, decision making in the energy industry will be driven by tangible results, instead of intuition or habit. Consumers can expect to lower the price of their monthly electricity bill, taking ownership of energy usage -and for some, generation and storage- while energy providers will advance to solutions powered by Machine Learning and meaningful Key Performance Indicators increasing transparency from end-to-end.
Green Energy and Smart Cities
Moving towards a sustainable generation and consumption model in technologically advanced cities around the world can drastically improve citizens' quality of life, rendering the city a green hub. Leading by example, cities like London and New York have installed sensors to improve their transportation network and increase energy efficiency. As part of sustainable development, budgets have been allocated to build EV charging infrastructure. Smart cities deploy the analysis of big data to make informed decisions and further improve their processes. For the successful implementation of this new model, part of the transformational force is the education and sustainability consciousness of consumers themselves, complimented by local and government initiatives.
Transformation is underway
The increasing share of renewable energy in the mix, smart cities and the shift towards a responsive, smart grid to enhance efficiency, are set to transform the face of the energy industry. Data analysis is expected to be at the forefront of this process. Utilising the ever-growing number of connected devices -especially after the roll-out of 5G networks worldwide-we expect that stakeholders, be it municipalities or utilities, will have the ability to capture large datasets from multiple connected sensors and systems in real time. The major challenge lies on the methods that will be then used to interpret these data, synthesize innovative solutions and ultimately enhance performance.